Why Kansas City? – eCommerce
THE KANSAS CITY REGION: Supply Chain Centered
In 2019, global retail eCommerce sales neared $3.5 trillion and are expected to reach approximately $6.5 trillion by 2022. The U.S. is projected to have close to 300 million online shoppers by 2023. As the crossroads of North America, Kansas City offers a strong advantage for eCommerce operations. The region is known as one of the nation's top five trucking centers, as 85% of the U.S. population can be reached from a Kansas City location in two days or less.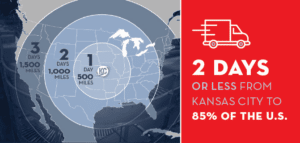 Existing Presence
The Kansas City region has successfully attracted eCommerce and distribution companies pledging to create more than 7,000 jobs, invest $1.3 billion and occupy 15 million square feet in the past five years. The Kansas City region's central location and available skilled workforce are key to a successful eCommerce strategy. eCommerce and retail companies with distribution and fulfillment operations in the Kansas City region include, but are not limited to:
OPTIONS & WORKFORCE
Real Estate: More than 40 million square feet of industrial development has been built in the Kansas City region since 2012, a majority of it on a speculative basis. KC's move-in ready, existing building inventory and selection of vertical-ready sites enables eCommerce companies to secure their real estate and begin operations or development of their facility immediately. Kansas City is an aggressively priced industrial market with a number of incentive programs to support eCommerce & distribution operations.
Workforce: Kansas City understands supply chain. A diligent, Midwestern work ethic and access to industry-driven training are just a few reasons why the workforce in Kansas City is one of the best in the country. Currently, there are several local training programs in the area focused on preparing the labor force for current and upcoming jobs in the transportation and logistics industry. Numerous education institutions around the KC region have supply chain management programs in place, including the University of Kansas whose program is ranked in the Top 25 of the U.S. As a supply chain hub, the Kansas City region is dedicated to identifying the training needs for the industry and advancing the best supply chain workforce available.
OneKC: With two states, 18 counties and 50 plus communities, the Kansas City region gives companies something all consumers crave – choice. Two state tax structures, double the incentive programs and urban and suburban location options. All offered in one market – OneKC.
INFRASTRUCTURE
Transportation Hub: Located in the geographical center of the United States, the Kansas City region has become one of the nation's largest hubs for warehousing, distribution and manufacturing operations. KC sits at the intersection of four major U.S. Interstate Highways (I-35, I-70, I-29 and I-49), and has 30% more interstate miles per capita than any city in nation.
Rail Access: Kansas City is the largest rail center in the U.S. by tonnage, and is served by five class 1 rail lines including: Burlington Northern Santa Fe, Canadian Pacific, Kansas City Southern, Norfolk Southern, and Union Pacific. Four of the class 1 rail lines have intermodal facilities that are significant hubs in the national network. Three of these facilities have industrial park developments adjacent to the rail facilities and real estate ready for new occupants.
Air Cargo: The Kansas City International Airport moves more air cargo each year than any air center in a six-state region. A new airport terminal facility is under construction and on schedule to be completed in 2023. The new, one million sq. ft. terminal will support more efficient airline operations, including air cargo and on-airport intermodal real estate development. Kansas City International Airport ranks as one of the best locations for air cargo and distribution development in the United States. Learn more about the new KCI.
Chris Gutierrez
President
KC SmartPort
Elli Bowen
Vice President
KC SmartPort